Author Archive
This is the twelfth episode of the Ask Different Podcast. Your hosts this week are Kyle Cronin, Jason Salaz, and Nathan Greenstein.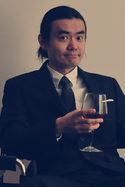 We have been featured on the Stack Exchange Podcast, Episode #16. We recorded a short 30 second ad that Stack Exchange offered to air. You can listen to the entire episode, and note Kyle's comment listing our ad's air time, at Episode #16 on Soundcloud.
Additionally, Ask Different wants to be part of Blog Overflow! We're looking for dedicated, dependable users able to write regularly on topics you are interested in. If you would like to be part of a team of writers, we invite you to post some details about your ideal topic(s) on the meta post on Ask Different.
Our guest today is the Stack Exchange designer-in-residence: Jin Yang!
We start by asking Jin how he came to be employed by Stack Exchange. Even though he knew Jeff already, he had to work hard to get the job. The first work he did for Stack Exchange. His debut was Area 51, which he created in one night! Next came Super User, and then the Stack Exchange 2.0 sites. Today, he's designed 27 sites!
Next, Jin goes over his design process, and we ask him about his experience designing Ask Different. He started by asking fellow designer Mike Rundle for a mockup. Jin liked it and started making some tweaks. He soon realized that it took a lot of extra CSS to make the design work. We appreciate the extra effort he put into our site!
We also discuss a recent blog post by Mike Rundle about designers who can code. Jin tells us that he used to program, using ColdFusion and ASP/ASP.NET, though his work with Stack Exchange is dedicated as a Graphic Designer.
We briefly talk about the visual evolution of Apple-branding that has occurred since the official launch of Ask Different, and whether or not certain Apple style changes should make their way to Ask Different in some form.
As previously covered, we discuss the traffic-bump as a result of an Ask Different ad being placed on Daring Fireball, and how Stack Exchange could be improved to display better user referral metrics for site moderators to view.
This brings us to note how the growth of Stack Exchange has led to many additional sources needing uniquely designed graphic work. In additional to all of the website work Jin does, he's also begun designing logos and layouts for T-shirts, business cards, and promotional fliers.
If you view Jin's Twitter Profile, his biography includes the words "Professional bacon eater". The discussion of bacon leads to Reddit, as Kyle and Jin discuss Reddit inside jokes, and the Alien Blue iOS app for Reddit.
Jin explains more about community design involvement and other details that go into creating a Stack Exchange logo and site design. This leads to a discussion of how the design should fit into the language and culture Stack Exchange sites, such as English, Japanese, French, and Jewish Life & Learning among others.
Since employment, Jin has not done every single site. He discusses his reasoning for contracting out the work to Alex Charchar for the English Stack Exchange site, and Dmitry Fadeyev for UX Stack Exchange. Though not covered on the show, note also that the design Ask Ubuntu was done by a graphic artist within Canonical, Ubuntu's controlling company.
We briefly discuss the Area 51 proposal process, how it could be intimidating to non-technical users, and how that may prevent some of the best 'civilian' proposals from becoming available on Stack Exchange's network.
This episode was recorded on September 9, 2011. You can subscribe to this podcast via RSS or iTunes. We'd love to hear from you! Please feel free to leave a comment on this post or e-mail us at podcast@askdifferent.net.