This is the thirteenth episode of the Ask Different Podcast. Your hosts this week are Kyle Cronin, Jason Salaz, and Nathan Greenstein.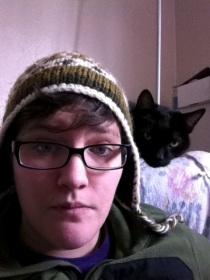 We'd like to welcome our special guest, Stack Exchange's Valued Associate #36, and member of the

MAYHEM

 CHAOS team, Abby Miller!
The CHAOS team's "Raison d'être" is community engagement and promotion, both on Stack Exchange sites and external to them. The first site Abby managed as part of CHAOS is Ask Different, and she's now begun working with Game Development.
In addition to the metrics that Stack Exchange provides for each site, the CHAOS team has taken site quality research to task. They compared Stack Exchange sites to other sites covering similar topics, to guage a visitor's ability to start with a Google search and end up with their question answered as quickly as possible. Ask Different, for example, was compared against Apple's Support Communities.
In the early days of the CHAOS team's involvement on Stack Exchange, a major task was to spruce up the quality of content on selected sites. They started by going through top questions and fixing up spelling and grammar, focusing on ensuring that question titles were formed as a question and not something more like an e-mail subject.
We discuss an interesting situation that the Stack Exchange network creates, in that Stack Exchange maintains, designs, and hosts the sites, but lays no claim to any of the content that the users create, which is very unusual for a profit-seeking company. The virtues of community-driven and community-maintained sites is a staple of Stack Exchange's philosophy.
Abby expands on the CHAOS team's goal of doing 80% external community promotion and 20% internal. CHAOS team members no longer edit the top 1000 questions, they shifted focus to more things like sponsorships to grow the community in terms of members and visibility. Ask Different has sponsored Daring Fireball, 52tiger, and is sponsoring the NCMUG's upcoming Mac Computer Expo. Also, you heard it here first: there is also a not-yet-announced promotion in the works, a partnership with an Apple blog for an iPhone giveaway!
As previously noted, the Top User swag has started arriving! We will soon schedule our Ask Different T-Shirt episode of the Ask Different Podcast. This week, we talk about our preferred sticker placement strategies.
Abby talks about CHAOS' 20% internal involvement in helping a user organize an event, in this case, planning and identifying the infrastructure needed to host a GameDev Game Jam developer event, in tandem with Stack Exchange's community team. We're also reminded of Stack Exchange's beta tester matchmaking service, a program that Ask Different will participate in for both Mac and iOS apps.
We slip in a quick side conversation to talk about a product Joel Spolsky, representing FogCreek software, demoed as part of Tech Crunch Disrupt San Francisco 2011, Trello. Trello is a list management system with the features you'd need in a multi-user support system. Free, instantly collaborative, painless to sign up for, and beneficial when you need rudimentary (or not-so-rudimentary) organization of tasks, for yourself or multiple parties.
After diving into playful zealotry over the devices that your hosts do or do not own, our ire turns to Facebook as we discuss the changes made a few days prior to their developer conference, F8. Notably, the feed is now Top News only, and all non-post activity got squished into the tiny sidebar. This leads us to discuss our thoughts on and intended uses of Facebook given the latest round of changes.
We ask Abby about her Mac hardware history. Her experience ranges from her 17" iMac (from about 5 years ago) to her current MacBook Pro (from just after the release of the unibody style) to her iPhone 4. She discusses her reasons for not using her personal hardware at work, and the initial pain of using her work-provided ThinkPad with it's inward-bumped touchpad. We share our thoughts on this and similar 'alternative' touchpads on the market.
Some of Abby's favorite iOS apps include GoatUp, which was coincidentally featured as TUAW's Daily iPhone App the day after this recording, Instagram, despite version 2 removing one of her favorite filters, and Agenda Calendar.
This episode was recorded on September 21, 2011. You can subscribe to this podcast via RSS or iTunes. We'd love to hear from you! Please feel free to leave a comment on this post or e-mail us at podcast@askdifferent.net.