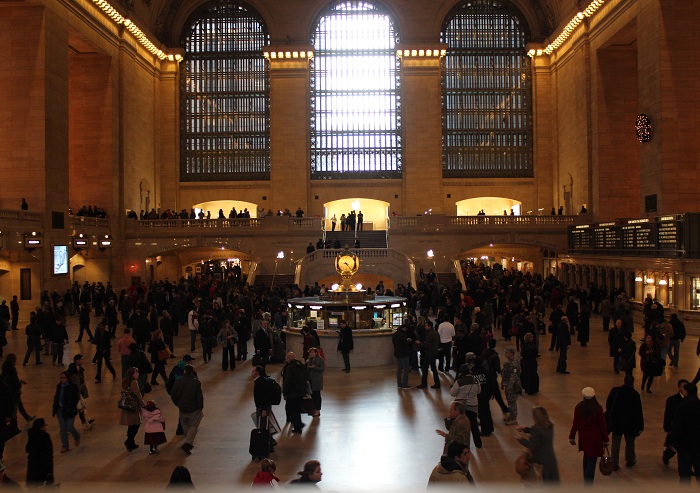 I did my Wikipedia research on the train before I stepped foot in Grand Central Terminal for the inaugural opening of the largest Apple store in the United States.
The iconic opal clock above the central information booth is valued between $10 to $20 million. The building is properly referred to as Grand Central Terminal, not Grand Central Station. During World War II, soldiers were instructed to shoot on sight anyone who gained unauthorized access to the hidden AC to DC converters, which powered tracks along the entire Eastern Seaboard. The ceiling zodiac, originally painted in 1912 and scraped clean of tobacco soot in 1998, is painted backwards, as if onlookers are glancing in on the universe from the outside — from God's perspective.
On a typical day, 750,000 people pass through Grand Central Terminal. Today, Friday December 9 was not typical.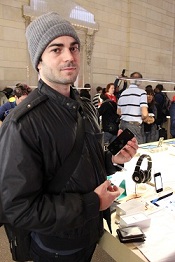 At 9:45 AM, throngs of red-shirted Apple employees amassed on the balustrade and cheered every time a trickle of "shoppers" was allowed through the high-security floodgates, up the marble staircase and into the brand new store, which wraps around the east and northeast edge of the massive main concourse.
The line to get in for a first look zigzagged onto the waiting platform of the tracks and into the building's least-used hallways.
Most "shoppers" were not here to shop.
I tried to capture the moment with a tweet from my sometimes-trusty Droid X. Yes, I'm an Android guy — at least I was, just hours ago. The cell reception at super crowded Grand Central terminal was terrible. My tweet didn't go through, and didn't go though, and then finally did. Now there is a black iPhone 4S sitting on my desk.
I have a learning curve to overcome, and I will. I have to. A year-and-a-half after I first bought my Droid X, the phone finally went haywire this past week. It wouldn't turn on, and then it would, and then it wouldn't, and I resolved to end the pain. Yes, being without my phone is torture. The only thing worse is being with a phone on the fritz. The culprit, in this case, was probably old age — 1.5 years is a good run for a phone — but also no doubt a couple near-death drownings in the pockets of my sweat-drenched gym shorts. I like to type notes and text and check Twitter between reps. I hope my iPhone likes going to the gym more than my old X.
Ben, the red shirt who sold me the phone, doesn't think the iPhone will do any better in sweat. "Phones don't like liquids," he said. He suggested I get the 2-year warranty, but didn't push me into the deal. Also, he flashed me a Droid in his pocket. Like many of the 315 employees working the store, today was Ben's first day.
It seemed most of the employees were present today to do little more than smile and cheer. The massive gathering reminded my partner in crime Laura of "Jesus camp." The fervor was palpable. Maybe it was an organic halo-effect born out of appreciation and loyalty to a superior technological product. Maybe it was a directive from the late genius king himself. Smile, cheer, market this product with psychosomatic zeal.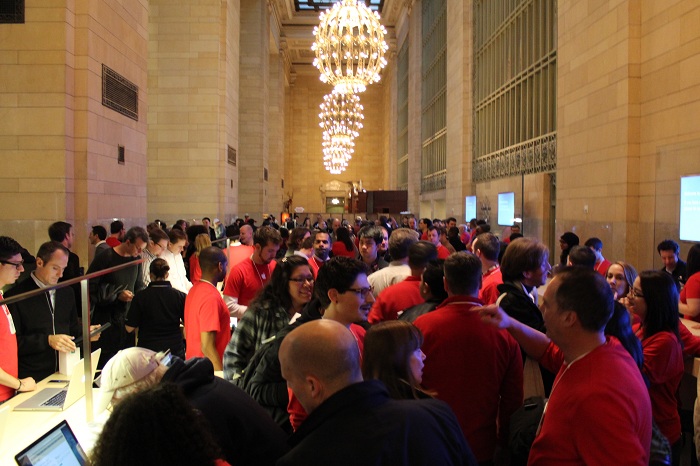 But we all now know the product is good. I don't have to own an iPhone to know that. I've heard my friends and my mom. And the customer service at the store — maybe at Grand Central in particular, where employees can stretch their eyeballs to the far reaches of the concourse — is impeccable. I couldn't help but be taken aback by the intense one-on-one attention given to shoppers by the people in red shirts. More pleasant, they seem happy to be of service. Also, they let little kids swipe snotty fingers all over display iPads (a "disinfector" periodically spritzes everything in-store).
I have little doubt that Apple does things right. Whether the store belongs in one of our most beloved NYC landmarks is up for debate, and it's probably something that I should have asked the walls of the Whispering Gallery into Siri. I'm not ready to take sides. Still, I'm an Apple man now. This phone on my desk says I have to be.
Photos by Laura Dobrzynski. For more photos of the opening of the Grand Central Apple Store, check us out at Facebook and Google+.