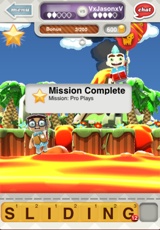 Zynga's hit Hangman and Scrabble fusion 'Hanging With Friends' updated with a new feature! From their version 4.14 update notes:
Hanging With Friends now has Missions! Level your way through over 100 missions that test your Hanging skills, and rescue the Princess! On the way earn coins and unlock exclusive content.
No longer do you simply play an asynchronous game of Hangman, but now you can coerce your play habits into accomplishing missions at the same time! The princess won't save herself, you know. All of this on the heels of the introduction of micro-transactions into Hanging With Friends, allowing you to buy virtual coins with real money in order to buy (drum roll please) character and balloon customizations, or hints for use during the word building and solving phases. We all know how much Zynga among numerous other companies like their virtual goods and currencies, and just how many horror stories come as a result of a young child playing this simple game and deciding that they need more coins to accomplish their objective; and what luck, all it takes is mommy and daddy's password to do it!
The implementation of this has some particularly annoying quirks, the first of which is that you can only access your mission list via the star icon in the upper-left hand corner of the game board. There are mission objectives that take place outside of the game, specifically ones for buying something from the store, or changing your choice of character or balloons.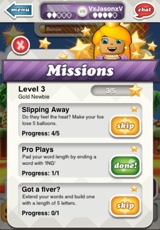 Second, you can't just keep playing rounds of Hangman and accomplish missions. If you "unlock" one, you must enter the mission list and explicitly accept it. If you accomplish the three missions listed, you will not get new ones until you enter the list and manually mark them as 'Done'. Only then will your new ones be revealed. The obvious alternative would be what Jetpack Joyride does, which displays your mission progress after every round, and very explicitly shows you when you've completed one.
As previously mentioned, it's an annoying aspect that you cannot disable; and if you pay attention to it you're inclined to actively work towards accomplishing the missions. Accomplishing missions can be anything from spending virtual coins, to using in-game hints, to playing specific words, such as 4 character ones, 5 character ones, ones including the letter 't', or ending with 'ing'.
Of course, there is an incentive for you to complete missions. Each mission is worth a number of stars, and you rank up after 5 stars. Generally speaking, the missions increase in "difficulty", or length, as you progress in star value. Where a mission named "Slipping Away" worth 1 star requires you to cause your opponent to lose 5 balloons, the 2 star level requires you to cause the loss of 10 balloons. When you rank up, you get an increasing number of coins. I haven't paid enough attention to determine the rate of increase in rewarded coins per level.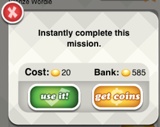 And there wouldn't be incentive without giving you the ability to dramatically rank up quickly by paying actual money. All uncompleted missions have a 'skip' icon, which when tapped offers you the ability to immediately complete the mission by using 20 of your virtual coins; but of course, the confirmation screen has two buttons. One to confirm your skip, labeled: "use it!", and another labeled "get coins", which takes you to Hanging's coin shop screen where you can choose the amount of virtual coins you want to buy, but don't get the actual cost until after you've selected one.
For the record, 70 coins can be bought for 99¢, or 20,000 coins for $99.99, which is discounted 65%! (According to their in-game image.) Best(?) of all, the two icons next to the 20,000 coin options say "stay tuned!". Any bets on how many coins they will give you, and how much it'll cost?
The icing on this nasty cake is the number of crashes that have begun to happen. They happen nearly every time I play, after tapping the 'menu' button in the upper-left of a game screen. The saving grace for this is the existence of the 'Next' link that will take me to my next unplayed game that requires me to take some action on. Without delving into too many more griefs, there are other ramifications of this nuisance, the chief one being uncleared notifications and icon badge state.
Hanging With Friends is still Hangman, that aspect of it hasn't changed. If you can wade through all of the added on nonsense they subject you to, it's still the same game. The new missions are an extra 2 seconds of nuisance at best, and a time sink at worst. In case you're curious, I'm currently Level 15, a 'Bronze Stumper'.
Hanging with Friends is iPhone/iPod sized only, it has no iPad specific interface. It is free (with ads in between games), or $1.99 for the unsubsidized version.