Archive for December, 2011
This is the nineteenth episode of the Ask Different Podcast. Your hosts this week are Kyle Cronin, Jason Salaz, Nathan Greenstein, and Mike Bradshaw.
We'd like to welcome a new co-host to the Ask Different Podcast, Mike Bradshaw! Mike is the #1 user on Ask Different by reputation, and worked in an Apple Store for 4 1/2 years. Thanks for being on the show, Mike!
Last Friday, Apple opened a new retail store in New York's Grand Central Terminal. The store looks beautiful, and quite different than many other Apple Stores. Some of Stack Exchange's CHAOS team members got a chance to visit (and promote Ask Different!), and posted some photos and info on our Ask Different Blog.
One of the interesting notes in that post is mention of Apple employee with an Android phone in his pocket leads to a discussion of how the hardware in Apple Stores has changed. We recall the old Windows CE-based point of sale devices, the transition to the iPod touch-based checkout, and the recent self-checkout options. We consider how Apple controls theft with the new system.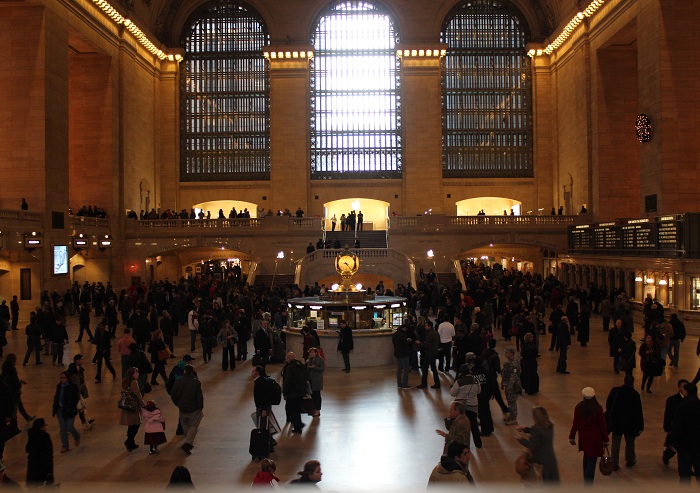 I did my Wikipedia research on the train before I stepped foot in Grand Central Terminal for the inaugural opening of the largest Apple store in the United States.
The iconic opal clock above the central information booth is valued between $10 to $20 million. The building is properly referred to as Grand Central Terminal, not Grand Central Station. During World War II, soldiers were instructed to shoot on sight anyone who gained unauthorized access to the hidden AC to DC converters, which powered tracks along the entire Eastern Seaboard. The ceiling zodiac, originally painted in 1912 and scraped clean of tobacco soot in 1998, is painted backwards, as if onlookers are glancing in on the universe from the outside — from God's perspective.
On a typical day, 750,000 people pass through Grand Central Terminal. Today, Friday December 9 was not typical.